Owner Story: Take Care of Your Saturns, Because They Take Care of You
I have my first new car ever, and I love it: a 2006 Saturn Vue. It isn't my first Saturn, though. I had a 1995 Saturn SL2 that I drove into the ground. I bought it used, on the cheap, since it was a rebuild from a wreck. About 7400 original miles were on the odometer, and at $8700 it was too good to pass up, since it was only three years old when I bought it. I spent around $3000 bucks over the five years that I owned it, mostly to fix things that weren't repaired after the wreck it had been in.
I loved this little sedan! It was just the right size for me, it could seat five in a pinch, and it had all of the child locks etc. for transporting my son safely. It was great on gas mileage too. I had just finished paying off the loan on it, when we had the last snowstorm of the season on March 17, 2005. Yep, you guessed it. Saturn versus an oak tree on the side of the highway... unfortunately, the oak tree won the duel.
I had my son in the back seat when we spun out due to the crappy condition of the road. When we hit the tree, every single safety system worked perfectly! This is in a car that had been wrecked previously that was now almost 11 years old - and it had been indifferently maintained by me! I was so impressed by the car's performance during the accident that I went out and got another Saturn!
But I'm actually going to take care of this one this time!
Source: Macy
Random Article from the SaturnFans.com Archives
Tags: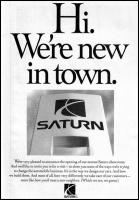 Back in the early 1990's Saturn was still building out its retail network and when new stores opened, they often ran advertisements like the one above in local area newspapers. This particular ad was printed inside the pages of a newspaper in New Jersey on June 25, 1993 to announce the opening of Saturn of Toms River.