MotorAuthority: Saturn Vue "Hyline" Concept Hybrid Bound for SEMA Show
Tags: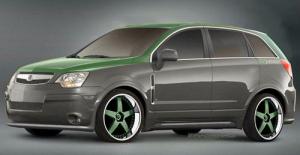 Automotive enthusiast site MotorAuthority reports that Saturn will showcase a hybrid Vue concept called "Hyline" at the upcoming Specialty Equipment Manufacturing Associate (SEMA) auto show later this week. According to the website, the Saturn Vue Hyline was developed in conjunction with Sound Choice and Performance. The "customized crossover comes with extensive interior and exterior modifications," teases MA.
Some of the aftermarket modifications include:
Bodykit
Single wiper conversion
HID and LED headlights
Side-mounted cameras
Cold air intake
Sports exhaust
New suspension set-up
In-car computer
Touchscreen central display
Voice command
Several video monitors
Visit the MotorAuthority website to read their full story. More information about the Hyline will be posted on SaturnFans.com as it becomes available.
Random Article from the SaturnFans.com Archives
Tags:
A letter from Saturn General Manager Jill Lajdziak: From our very beginning, Saturn has always sought a better way. We pioneered no haggle-no hassle shopping, built dent-resistant cars, set a new benchmark for customer service and forged a unique relationship with our retailers, workers and customers. From the beginning, Saturn was launched as a "Different kind of Car Company." Well, here we go again. You may have read that General Motors delivered a plan to the U.S. government that outlined the corporation's plan for long term viability. In that plan, GM stated that Saturn would work with its retailers to investigate options for the future of the Saturn brand. We said that all ideas were on the table and we meant it.