MotorAuthority: Saturn Vue "Hyline" Concept Hybrid Bound for SEMA Show
Tags: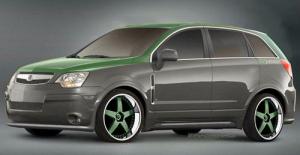 Automotive enthusiast site MotorAuthority reports that Saturn will showcase a hybrid Vue concept called "Hyline" at the upcoming Specialty Equipment Manufacturing Associate (SEMA) auto show later this week. According to the website, the Saturn Vue Hyline was developed in conjunction with Sound Choice and Performance. The "customized crossover comes with extensive interior and exterior modifications," teases MA.
Some of the aftermarket modifications include:
Bodykit
Single wiper conversion
HID and LED headlights
Side-mounted cameras
Cold air intake
Sports exhaust
New suspension set-up
In-car computer
Touchscreen central display
Voice command
Several video monitors
Visit the MotorAuthority website to read their full story. More information about the Hyline will be posted on SaturnFans.com as it becomes available.
Random Article from the SaturnFans.com Archives
From the Wall Street Journal: A frantic, last-ditch attempt to forge a relief package for the auto industry collapsed in the U.S. Senate, dealing a giant blow to the immediate hopes of the Big Three. Senate Majority Leader Harry Reid of Nevada suggested the $14 billion wouldn't be revisited until January.