Interstate Blogging: Saturn "Road to Change" Recap
Tags: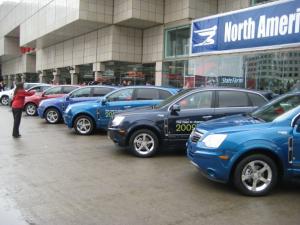 Saturn's Lisa Gilpin posted a very thorough recap of the Saturn "Road to Change" caravan's journey in the form of daily blog updates on ImSaturn. The caravan embarked on a five-day trek from Detroit, Michigan to Washington, DC. Ten pre-production Vue 2-Mode hybrid vehicles were requested to shuttle dignitaries around to the inaugural events in DC last week, and instead of piling them all into a huge carrier, Lisa said Saturn decided to drive them to DC instead. The Saturn team not only met with a lot of folks - at grade schools, Saturn stores, and universities - along the way, they braved some pretty treacherous weather, too. View photos and read all about their adventure on ImSaturn:
Random Article from the SaturnFans.com Archives
Tags:
Last week, I went on a 450 km trip and my 2009 VUE XR-6 averaged 7.7 L/100 km. Converted, it gives 36.7 MPG imperial, or 30.6 MPG US gallons. I was driving at 101 km/h (60 MPH) on the cruise control. We were 2 adults and a child, fully loaded with luggages. For a 3.6L V6, I think it is very, very acceptable! I like this machine!