Interstate Blogging: Saturn "Road to Change" Recap
Tags: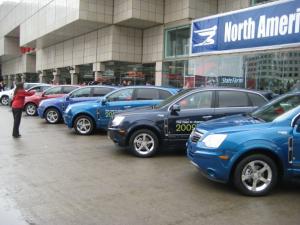 Saturn's Lisa Gilpin posted a very thorough recap of the Saturn "Road to Change" caravan's journey in the form of daily blog updates on ImSaturn. The caravan embarked on a five-day trek from Detroit, Michigan to Washington, DC. Ten pre-production Vue 2-Mode hybrid vehicles were requested to shuttle dignitaries around to the inaugural events in DC last week, and instead of piling them all into a huge carrier, Lisa said Saturn decided to drive them to DC instead. The Saturn team not only met with a lot of folks - at grade schools, Saturn stores, and universities - along the way, they braved some pretty treacherous weather, too. View photos and read all about their adventure on ImSaturn:
Random Article from the SaturnFans.com Archives
Earlier this month, Insure.com compiled a list of 300 vehicles and their associated insurance premiums. On the list of the 20 least expensive cars to insure was the Saturn Vue, ranking ninth. For those of you who don't own a Vue, you'll be happy to know that most Saturn models did well in their categories. The only exceptions were Saturn's hybrid models, which due to their electrified powertrains, are more expensive to replace in the event of a collision. Despite these higher premiums, Saturn hybrids still managed to rank in the middle of their respective classes.