Interstate Blogging: Saturn "Road to Change" Recap
Tags: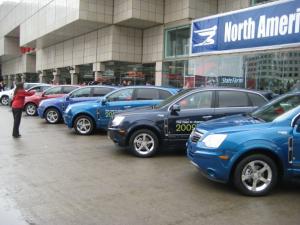 Saturn's Lisa Gilpin posted a very thorough recap of the Saturn "Road to Change" caravan's journey in the form of daily blog updates on ImSaturn. The caravan embarked on a five-day trek from Detroit, Michigan to Washington, DC. Ten pre-production Vue 2-Mode hybrid vehicles were requested to shuttle dignitaries around to the inaugural events in DC last week, and instead of piling them all into a huge carrier, Lisa said Saturn decided to drive them to DC instead. The Saturn team not only met with a lot of folks - at grade schools, Saturn stores, and universities - along the way, they braved some pretty treacherous weather, too. View photos and read all about their adventure on ImSaturn:
Random Article from the SaturnFans.com Archives
I drove from Vancouver, British Columbia to Victorville, California and back to Washington state in mine. I stopped off in Sacramento and picked up three more people on the way down and dropped them back off on the way back. It managed to take the Grapevine with that load passing other vehicles with ease. It got great mileage down and back with the average of 26 mpgs.