Interstate Blogging: Saturn "Road to Change" Recap
Tags: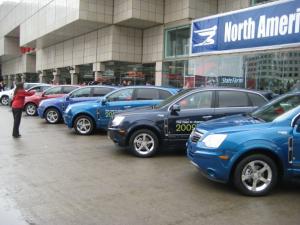 Saturn's Lisa Gilpin posted a very thorough recap of the Saturn "Road to Change" caravan's journey in the form of daily blog updates on ImSaturn. The caravan embarked on a five-day trek from Detroit, Michigan to Washington, DC. Ten pre-production Vue 2-Mode hybrid vehicles were requested to shuttle dignitaries around to the inaugural events in DC last week, and instead of piling them all into a huge carrier, Lisa said Saturn decided to drive them to DC instead. The Saturn team not only met with a lot of folks - at grade schools, Saturn stores, and universities - along the way, they braved some pretty treacherous weather, too. View photos and read all about their adventure on ImSaturn:
Random Article from the SaturnFans.com Archives
Tags:
Attention! These are friends of someone I know through work. The ladies went missing on what was supposed to be a camping trip. The authorities are hoping to track them down by finding where their car is parked. Its a 2005 black Saturn Vue with modified front turn signals. They think it may be parked at a trailhead in the Grand Teton National Park. If any of you are in the area (Jackson, Wyoming) please keep an eye out for this car.