Hybrid Vue Due in 2006
General Motors Executive Director of Hybrid Powertrains, Larry Nitz, recently talked with Automotive Industries for an article about advanced powertrains. A 42-volt belt alternator starter, so-called "mild hybrid" system, is slated to be introduced next year in the 2006 Saturn Vue Green Line.
Nitz describes the Green Line Vue as "a very high value hybrid, as close as a hybrid could be to a bolt-on system." The simplicity of the design should help Saturn keep the cost of the vehicle down to a reasonable level. A more complex hybrid system that just recently made its debut in GM's full size pickups was a $2500 option. Automotive Industries said "the object [of GM's mild hybrid system] is to provide 80-90 percent of the hybrid benefit at 10-20 percent of the cost." The system operates the same as any other hybrid system. GM says the system will provide more than a 10 percent boost in fuel economy over typical 4-cylinder Vue models.
Source: Automotive Industries
Random Article from the SaturnFans.com Archives
Tags: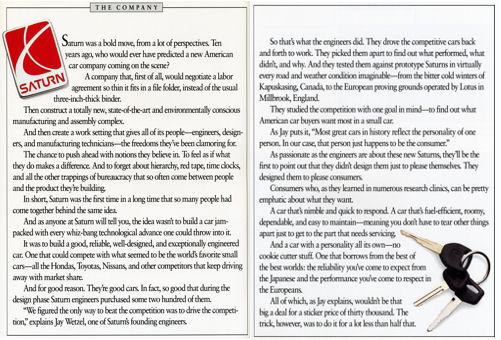 The following is an excerpt from Saturn's 1991 brochure. The first Saturn was a 1991 SL2 sedan sold on October 25, 1990.