Has Your Saturn Been Recalled?

With a several General Motors recalls underway - especially ones for the Saturn Ion, Outlook, and Sky - I've received emails from quite a few folks who are concerned that their vehicles might be impacted. If you haven't received a letter in the mail from GM and you are worried, General Motors has set up an online database that's searchable by VIN. Follow the steps on the GM Recalls page to see if your Saturn has been recalled.
Note that you don't need to create an account or locate a dealer, just select your vehicle's brand (Saturn) and enter your VIN.
Update: I've received reports that some owners' vehicles aren't showing up in the database. If you believe your Saturn has been recalled, but its not showing up in the database please post a comment below and we'll try to help you get some resolution.
Random Article from the SaturnFans.com Archives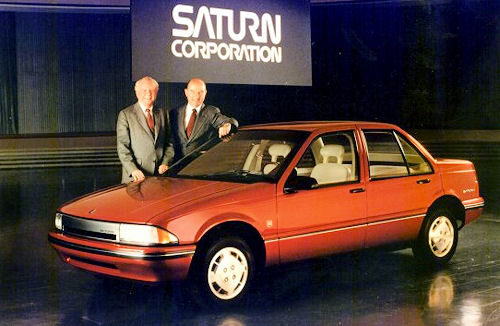 This was the first Saturn demonstration prototype vehicle. It was completed for evaluation and shown to the media on September 15, 1984. General Motors Chairman and CEO at the time, Roger Smith, and GM's then-President and Chief Operating Officer, F. James McDonald, are pictured with the 1985 Saturn four-door sedan concept.