GM Readies New Ads, Deep Discounts to Clear Remaining Saturn Inventory

Automotive News reports that General Motors is preparing what will likely be one last Saturn advertising campaign in an effort to sell the brand's last remaining 9,400 2008 and 2009 models. Susan Docherty, GM's newly appointed vice president of U.S. sales, told the trade publication that "starting next week, we'll have a print campaign which features that product. In the next 90 days, we'll have cleaned up that inventory. I'm not worried about it at all."
But many Saturn retailers aren't in as much of a rush to sell all of their inventory just yet. "We're in a holding pattern," Motor City Auto Center General Manager John Pitre said in an interview with AN. "It'll probably take six months to locate and secure another franchise for that facility, so we want to keep it up and running for that amount of time."
According to Automotive News:
Today GM began an incentive program that runs through the end of the month. Consumers can get either $4,000 off of any 2008 or 2009 Saturn or 0% financing for 72 months. In addition, a loyalty mailing to current Saturn owners offers an additional $1,000 in cash. That's regardless of whether they trade in their Saturn vehicle.
Sources tell SaturnFans.com that in some cases, additional regional incentives may also be applied. Check with your local retailer for more information about what might be offered in your area.
GM spokesman John McDonald told AN that owners "have to have owned or leased their Saturn vehicle for a minimum of six months to qualify" for the loyalty incentive.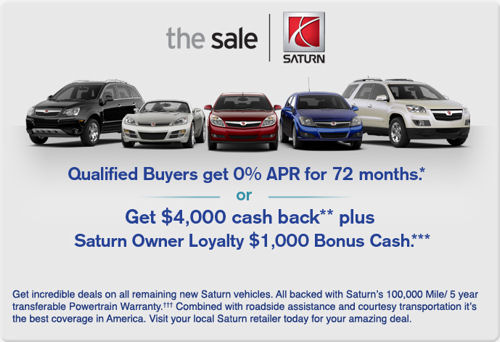 Random Article from the SaturnFans.com Archives
Tags:
As noted in GM's viability plan presented on February 17, 2009, GM announced it would review the potential spin-off or sale of Saturn and if those options did not prove viable Saturn's operations would be wound down over time. Over approximately the past 60 days, a sub-committee of Saturn retailers has been studying the feasibility of the sale or spin-off options, and has identified some parties that are potentially interested in a purchase or spin-off of Saturn. We are advised that one of the interested parties is Black Oak Partners. We are not at liberty to discuss any other interested party. With respect to what the eventual outcome concerning Saturn might be with Black Oak or any other interested party, it is simply premature at this time to speculate on what any eventual outcome may be.