Found: Missing Women in Grand Teton National Park, Help locate their Vue
Tags:

Attention! These are friends of someone I know through work. The ladies went missing on what was supposed to be a camping trip. The authorities are hoping to track them down by finding where their car is parked. Its a 2005 black Saturn Vue with modified front turn signals. They think it may be parked at a trailhead in the Grand Teton National Park. If any of you are in the area (Jackson, Wyoming) please keep an eye out for this car. It has Wisconsin license plates and should be easy for a Saturn fan to notice.
Contact your local police immediately if you see it!
Good news! The missing women have been found:
Random Article from the SaturnFans.com Archives
Tags: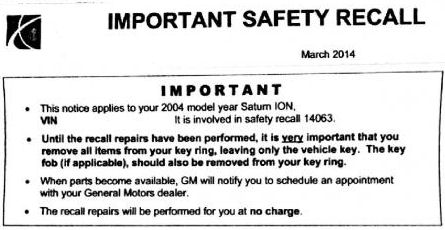 SaturnFans.com has obtained a copy of the letter being sent out to Ion owners impacted by the ignition switch recall. The bottom line: replacement parts are not available and if you have to drive your car make sure you remove the key fob and any other keys to eliminate any excess weight on the ignition key.