Did Buick's SUV Announcement Hint at New Powertrain Options for the 2011 Saturn Vue?

Last week General Motors announced Buick would begin selling a new compact crossover in 2010. Later in 2011, the vehicle will feature the company's state-of-the-art plug-in hybrid technology. The Buick will be launched with two of fuel-efficient direct-injected gasoline engines: Ecotec 2.4L direct-injected four-cylinder engine with an optional 3.0L direct-injected V6. GM says the 2.4L will deliver 30 miles per gallon or more on the highway, a modest statement since the redesigned and just released 2010 Chevrolet Equinox with the same powertrain earned a 32 mpg rating by the EPA.
The new five-passenger crossover will build on the success of the Buick Enclave, offering the brand's finely crafted execution and premium driving experience in a fuel-efficient package. "Some customers who have been drawn to the Enclave were looking for something a little smaller, but they didn't want to give up craftsmanship or a quiet ride to get there," said Susan Docherty, general manager of Buick-Pontiac-GMC. "We believe this new Buick will excite those customers, and will continue to broaden the appeal of the brand."
The Buick plug-in hybrid has the potential to achieve double the fuel economy of comparably-sized SUVs on short trips. This significant boost is achieved by combining a modified version of GM's proven 2-Mode Hybrid system with advanced lithium-ion battery cells and charging technology developed for GM's Voltec system, which will debut in the Chevrolet Volt extended-range electric vehicle in late 2010. "LG Chem - the supplier of our battery cells for the Volt - has also been selected to supply the lithium-ion cells for the new Buick plug-in hybrid, and its Troy, Michigan-based subsidiary Compact Power will supply the pack," Tom Stephens, GM vice chairman of product development, said.
The Buick plug-in hybrid will use the same manganese-spinel based chemistry and polymer battery cells as the Volt. The 8 kwh battery - containing half the energy of the Volt battery pack - will be packaged in a rectangular-shaped box under the cargo floor. The lithium-ion battery can be fully recharged in four to five hours by simply connecting the vehicle to any standard 110V household electrical outlet. By recharging rather than refueling, the Buick plug-in hybrid significantly improves fuel economy and reduces petroleum use. In early testing, the plug-in hybrid is capable of electric-only propulsion for more than 10 miles at low speeds. On the road, GM's 2-Mode plug-in hybrid system can use any combination of electric or gasoline engine power to move the vehicle, depending on the driving conditions. This differs from GM's Voltec technology, which provides the Volt with up to 40 miles of emissions- and petroleum-free electric-only propulsion, and an overall range of more than 300 miles with its flex-fuel engine-generator. In addition to the lithium-ion battery pack, the Buick plug-in hybrid's powertrain features two powerful electric motors, sophisticated electronic controls and battery management systems and an efficient direct-injected 3.6L V-6 flex-fuel engine.
If all of this sounds a little familiar, it should. Saturn was slated to sell the same 2-Mode Hybrid and Plug-in Hybrid models before GM decided to sell the brand.
The yet-to-be named Buick will be strongly based on - if not identical to - the Vue Plug-in Hybrid that was originally planned for Saturn. A teaser photo distributed with the news release (see the picture above) reveals that the new SUV bears a strong resemblence to the Vue.
Which begs the question: will the Vue get the same 2.4L DI and 3.0L DI powertrain upgrades? Maybe. GM has said it will continue to build Saturns through at least 2011, which means the Saturn and Buick will built alongside of each other for at least one year at GM's Ramos Arizpe, Mexico manufacturing facility. The Vue was rumored to receive powertrain and interior updates next year before GM began restructuring itself last December. Let's hope it still will.
Random Article from the SaturnFans.com Archives
Tags: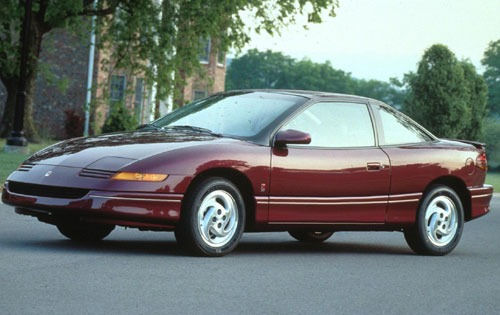 Model year 1994 marked what Saturn called "Balanced Excellence" in terms of offering customers exceptional value for their money in the small car market. Attaining "balanced excellence" required Saturn to pay critical attention to a host of buyer expectations. Among them were a high level of performance without sacrificing fuel economy or emissions; affordability while maintaining reliability and durability; and an overall commitment to quality without compromise. Accompanied by numerous continuous refinements, the family of 1994 Saturn sedans, wagons and coupes were proof that "balanced excellence" could be achieved through subtle refinements and continuous improvement.