Details Emerge About the 2nd-Generation GM Mild Hybrid System
Edmunds.com's Green Car Advisor reports that GM "has developed a second-generation mild hybrid system that for the first time takes advantage of powerful, lightweight lithium ion batteries to provide more power and a slight increase in fuel economy." The new system will reportedly be available in 2010 Saturns "with a lot of growth potential" across GM's worldwide product line, according to Stephan Poulos, GM's global chief engineer for hybrid systems.
This next-generation mild hybrid system, technically called a belt-alternator starter (BAS) system, will reportedly be mated to a 1.4L turbo instead of today's 2.4L four-cylinder engine. The system will be offered in the Saturn Aura and Vue hybrids (the Vue will also be available with a 2-Mode and plug-in hybrid powertrain). GM told Edmunds that the batteries in the new BAS setup are "24 percent smaller and 40 percent lighter than the nickel-metal hydride batteries used in GM's present mild hybrid system." Poulos said that "it is just a little bigger than a 12-pack of cola." However, the new battery pack generates 120 volts versus 36 volts in the current batteries.
The battery will deliver its power to a motor generator that is "a little larger" and "a different design" than the one in the present system. It will fit in the same space, but deliver "three times the electrical boost" as the motor now in use, he said. That will help with initial acceleration, fuel economy and with passing and hill climbing, Poulos said. Fuel efficiency increases just from the new hybrid system should be 15-25 percent higher than in conventionally powered versions of the same models. That's up at the lower end form a range of 10-25 percent for the first-generation mild hybrid. Poulos said GM believes that when combined with other anticipated improvements in gasoline engines, the hybrid drive system should add one to two miles per gallon to the fuel economy the company's mild hybrids now achieve. Poulos would not divulge specifics of the battery or other components of the new hybrid system -- which is a different system altogether from the stronger two-mode hybrid drive used in some GM trucks and SUVs and co-developed with BMW and Daimler. He did say, however, that GM hoped to "tread water" on pricing so the system could be offered without increasing the costs of the company's hybrid models. Because the system is more powerful than the present mild hybrid drive, it could be used to boost fuel economy by enabling GM to outfit hybrid models with smaller, turbocharged gas engines without affecting performances. Dropping from a 2.4-liter, four-cylinder gas engine to a 1.4-liter engine with a turbocharger and the new hybrid system would create "a package that would be really satisfying" to most drivers, Poulos said. GM also intends to use the new mild hybrid system in tandem with biofuel and diesel engines.
Random Article from the SaturnFans.com Archives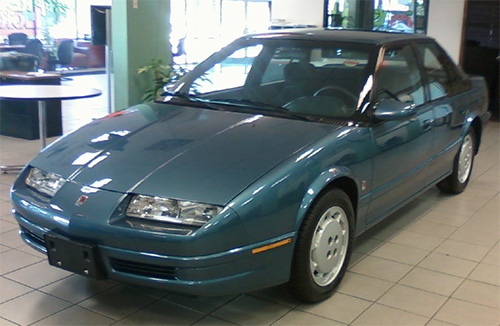 On this date in 1990, Saturn sold its first car. According to the St. Petersburg Times, the first Saturn - the blue SL2 sedan shown above - was sold just after midnight to Elaine Terry at Saturn of Clearwater. "I wanted an American-made car and decided to give it a try," Mrs. Terry told the newspaper. It was a 25th wedding anniversary present. USA Today and CNN were reportedly at the retail facility to document the event. "I kept it for 10 months and put over 5,000 miles on it. People all over the country wanted to buy the car from me. One man in Las Vegas was talking up to $100,000 for it."