Best Fuel Economy to Date in My 2009 Vue XR
Tags:
Last week, I went on a 450 km trip and my 2009 VUE XR-6 averaged 7.7 L/100 km. Converted, it gives 36.7 MPG imperial, or 30.6 MPG US gallons. I was driving at 101 km/h (60 MPH) on the cruise control. We were 2 adults and a child, fully loaded with luggages. For a 3.6L V6, I think it is very, very acceptable! I like this machine!
On my way back, I hauled my RV trailer... so it just averaged 23 L/100 km with a full-front wind at 30~50 km/h. Even F-150s hauling trailers were "dancing and swinging" on the road!
Random Article from the SaturnFans.com Archives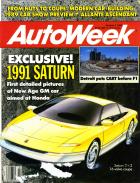 An illustration of the 1991 Saturn SC coupe appeared on the cover of AutoWeek's January 9th, 1989 issue. Inside, Kevin Wilson authored an article entitled "Saturn Rising" that discussed what was known about the mysterious Saturn project at the time of publication.