With Battery Issues Resolved, Saturn Ramps Up Production of Vue Hybrid
Tags:
For the past several months, Saturn has been struggling with battery issues brought on by a supplier that hampered production of its popular 2008 hybrid models. Thankfully, those troubles are a thing of the past, and Saturn is once again focused on ramping up production in attempt to meet increased demand for fuel-efficient, hybrid-electric vehicles. Yesterday, Cars.com's David Thomas posted an article that provided some additional insight into how Saturn is working through its unique situation.
Here's what he had to say:
Battery issues slowed down Saturn's hybrid rollout earlier this year, including a recall, and both the Vue and the Saturn Aura hybrid sedan just got back on track in May. Roughly 300 hybrid Vues were sold in May, and that's as many as they're shipping. According to Saturn spokesman Mike Morrissey, allocations are tight, with roughly one hybrid Vue going to each dealer in the country. We called two local dealers in Chicago, and both said they got one each and that they may call people who want to be on a list, but if you take three days to get to the dealership, it will be sold. Morrissey says the company will produce more hybrids over the next two months, before the model year changes to 2009 in late summer. There won't be a dip in supply, though, because there are no major differences between the 2008 and 2009 model years of this Vue. A more-efficient two-mode hybrid Vue will go on sale in January 2009.
Random Article from the SaturnFans.com Archives
Tags: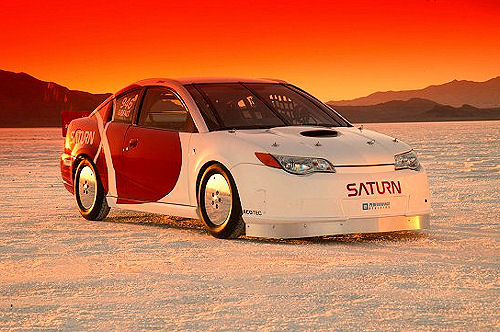 Saturn's Ion Red Line quad coupe raced into the record book at the Bonneville Salt Flats on October 17, 2003, establishing a new mark in the G/Blown Fuel Altered class at 212.684 mph.