Another New Saturn Ad on Yahoo!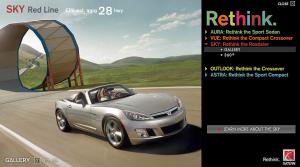 Last week, on June 11th to be more specific, Saturn once again "took over" the front page of Yahoo.com with an impressive, interactive advertisement promoting its 2008 lineup. Saturn's digital ads on Yahoo have evolved over the past few months, and this particular one is the best by far. In addition to showcasing the Astra, Aura, Outlook, Sky, and Vue, the ad let viewers easily access photos, information, video, and downloadable wallpaper. Take a look at some screenshots of the ad in its different stages, and then come back here to post your comments.
Random Article from the SaturnFans.com Archives
I have my first new car ever, and I love it: a 2006 Saturn Vue. It isn't my first Saturn, though. I had a 1995 Saturn SL2 that I drove into the ground. I bought it used, on the cheap, since it was a rebuild from a wreck. About 7400 original miles were on the odometer, and at $8700 it was too good to pass up, since it was only three years old when I bought it.