Another New Saturn Ad on Yahoo!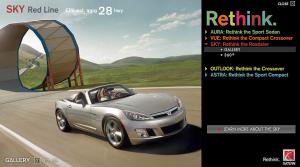 Last week, on June 11th to be more specific, Saturn once again "took over" the front page of Yahoo.com with an impressive, interactive advertisement promoting its 2008 lineup. Saturn's digital ads on Yahoo have evolved over the past few months, and this particular one is the best by far. In addition to showcasing the Astra, Aura, Outlook, Sky, and Vue, the ad let viewers easily access photos, information, video, and downloadable wallpaper. Take a look at some screenshots of the ad in its different stages, and then come back here to post your comments.
Random Article from the SaturnFans.com Archives
With Cash-for-Clunkers legislation headed for signing by President Obama, the team of experts at Autobytel has compiled an online buying guide that identifies the top brands and best model bets for a new, more efficient automobile that qualifies for the proposed Cash-for-Clunkers voucher. With gas prices surging upwards, the guide also serves as a timely road map of those vehicles best equipped to save money at the pump.