2009 Cars Deals are Insane
Mark Solheim from Kiplinger: Auto sales in 2008 were the worst in 16 years, and this year could be even grimmer. Dealers desperate to move inventory off clogged lots are entertaining the lowest of low-ball offers. Add in generous cash rebates and low-interest financing - at least, for the most creditworthy customers - and screaming bargains abound. Bill Cormicle of Flint, Michigan, got a sweet deal on his new Saturn Vue, a model that was piling up on dealer lots. Cormicle was replacing a GMC Sonoma pickup and needed enough space to carry five people plus haul stuff in the back. He had been eyeing the new Vue hybrid, but when GM delayed production of that model, he chose the 2008 four-cylinder Vue (sticker price, $22,380; highway mileage, 26 mpg). Because Cormicle's dad worked for GM, he qualified for the employee discount, which knocked 10% off the sticker price. "But dealers were giving that discount to everyone," says Cormicle. "So my dealer took another $500 off the price." The final cost: $20,028.
Random Article from the SaturnFans.com Archives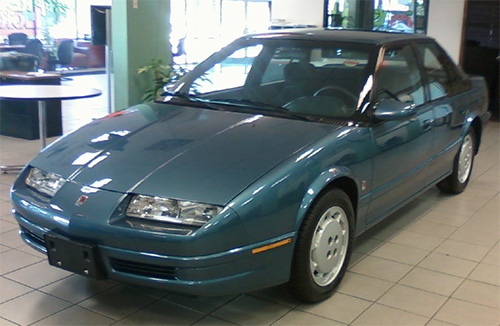 On this date in 1990, Saturn sold its first car. According to the St. Petersburg Times, the first Saturn - the blue SL2 sedan shown above - was sold just after midnight to Elaine Terry at Saturn of Clearwater. "I wanted an American-made car and decided to give it a try," Mrs. Terry told the newspaper. It was a 25th wedding anniversary present. USA Today and CNN were reportedly at the retail facility to document the event. "I kept it for 10 months and put over 5,000 miles on it. People all over the country wanted to buy the car from me. One man in Las Vegas was talking up to $100,000 for it."