2008 Saturn Vue Hybrid Print Ad
Tags: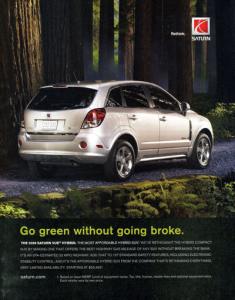 This two-page print ad from the July 2008 issue of 'Southern Living' magazine explains to readers how they can "go green without going broke" in the 2008 Saturn Vue Hybrid... the most affordable hybrid sport-utility.
We've rethought the hybrid compact SUV by making one that offers the best highway gas mileage of any SUV without breaking the bank. It's an EPA-estimated 32 mpg highway. Add that to 137 standard safety features, including electronic stability control, and it's the affordable hybrid SUV from the company that's rethinking everything. Very limited availability. Starting at $25,995.
The second page of the ad a more detailed write-up describing the Saturn Vue and Asheville, North Carolina's "organic side."
Random Article from the SaturnFans.com Archives
Tags:
Canada's Globe and Mail newspaper recently published some interesting statistics about the folks who are buying 2008 Saturn Astras. The data comes courtesy of the Power Information Network. Its not clear whether this information represents both U.S. and Canadian Astra owners – or just Canadian buyers – but its insightful nonetheless.