2008 Saturn Fuel Economy Ratings
Starting with the 2008 model year, the Environmental Protection Agency revised methods for calculating vehicle fuel-economy label numbers. The agency took into account real-world driving conditions, like increased highway speed limits, air conditioning use, and colder temperatures, so the numbers would be closer to what drivers actually get. As a result, most 2008 vehicles sold in the U.S. will see a reduction in published gas mileage ratings vs. last year's ratings. For easy reference, Saturn created this handy reference card to show the 2008 models and their mileage estimates for city and highway use.
Source: Saturn
Random Article from the SaturnFans.com Archives
Tags: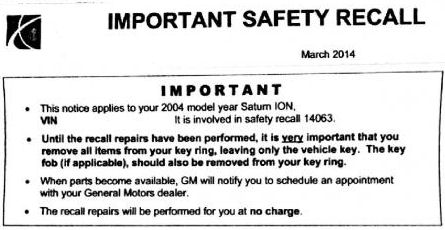 SaturnFans.com has obtained a copy of the letter being sent out to Ion owners impacted by the ignition switch recall. The bottom line: replacement parts are not available and if you have to drive your car make sure you remove the key fob and any other keys to eliminate any excess weight on the ignition key.