Stay Up-to-Date on the Latest Saturn News
If you're interested in keeping up with the latest news surrounding Saturn and the expansive Ion, Outlook, and Sky recalls, I invite you to subscribe to GMBeat's Saturn newsletter either by e-mail or through your favorite news reader. If you choose to receive e-mails, you'll get Saturn news delivered right to your inbox whenever news happens. If there's no news that day, you won't get an email. Its free to sign up, and if you don't like how I have the system setup you can unsubscribe quickly and easily at your convenience.
I originally built the GMBeat website as a replacement to the news section here at SaturnFans.com a few years ago. At the time, Saturn was in the process of being sold and news was happening faster then I could process it with the existing SaturnFans.com content management system. Saturn was closed before the new site launched, and as a result I changed the focus of the site to keep up with the GM bankruptcy proceedings - all while still tracking Saturn news stories across the Web. If you own one of the recently recalled vehicles, I think you'll find it an especially useful tool to learn more about the recall investigations and ongoing Federal probes. And you can rest assured that if Saturn vehicles are in the news, you'll be among the first to know.
If you own other GM vehicles, you can also subscribe to the GMBeat Recall newsletter or the overall GMBeat News feed.
Random Article from the SaturnFans.com Archives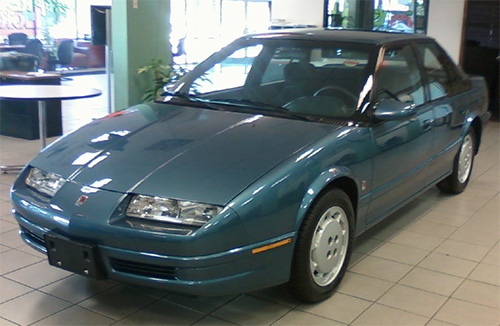 On this date in 1990, Saturn sold its first car. According to the St. Petersburg Times, the first Saturn - the blue SL2 sedan shown above - was sold just after midnight to Elaine Terry at Saturn of Clearwater. "I wanted an American-made car and decided to give it a try," Mrs. Terry told the newspaper. It was a 25th wedding anniversary present. USA Today and CNN were reportedly at the retail facility to document the event. "I kept it for 10 months and put over 5,000 miles on it. People all over the country wanted to buy the car from me. One man in Las Vegas was talking up to $100,000 for it."