Special Appearance Packages to Spice Up Sky Lineup
Tags: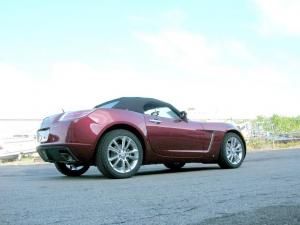 Saturn plans to keep its gorgeous Sky roadster fresh by offering two appearance packages in 2009. The first "special" Sky just went down the assembly line in Wilmington, Delaware. It was sent to Detroit to be photographed for marketing purposes, according to Saturn spokesman Mike Morrissey. In a his blog at ImSaturn.com, Mike said that "the color – Ruby Red – is new for the Sky and is available with or without the full appearance package." This will reportedly be the first of two special appearance packages offered on the Sky this model year. The other will offer similar cues but will be color coordinated to match the new Hydro Blue exterior hue.
The special package includes features like "bold stripes" and "new 18-inch split-spoke polished aluminum wheels." Inside Mike writes that "there is red stitching on the seats, steering wheel and shift boot." More pictures are promised, but you can get a good look at what you can expect in Mike's photo album.
Random Article from the SaturnFans.com Archives
Tags:
John McElroy from WardsAutos.com: The debate about bailing out Detroit's auto makers has hit a fever pitch. Everybody wants to weigh in with their opinion. The louder they rant, and the crazier their claims, the more coverage they get. There always are two sides to every argument, but this discussion shows how much misinformation, misperception and wrong-headed "facts" are being bandied about.