Sky Plant Spared Worst of Shutdown
Tags:
From the News Journal: Joe Riccio, shop chairman for United Auto Workers Local 435, said workers at the Boxwood Road factory were upset that they first learned about the shutdowns from news reports. "We were worried that there was going to be a long, drawn-out shutdown over this thing," Riccio said. GM has already laid off hundreds of workers and cut production to a single shift at the facility, where the Pontiac Solstice, Saturn Sky and Opel GT roadsters are built. In the most recent cuts, 90 workers were laid off earlier this month as plant managers slowed production to accommodate slumping demand. During the shutdown, the factory's hourly workers will be on temporary layoff and eligible for state unemployment benefits, said GM spokesman John Raut. The automaker will pay workers supplemental wages to make their total income, including unemployment benefits, equal to 85 percent of their normal take-home pay.
Random Article from the SaturnFans.com Archives
Tags: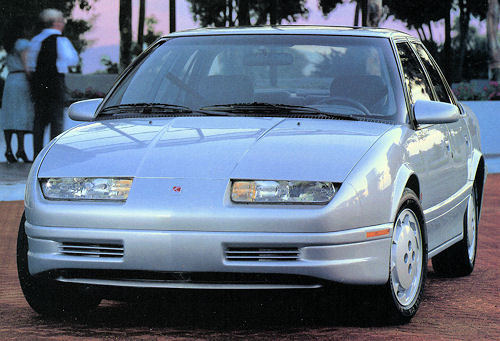 Sometimes its fun to pause for a moment at take a look back at how much things cost years ago. Take for instance Saturn's 1991 lineup, when base SL sedan was sold for less than $8000! The SL2, shown above, could be purchased for just over $10,000. Note the simplicity of the option sheet, along with the available anti-lock braking system (ABS) and unavailable airbags.