Have You Experienced the Ignition Switch Issue?
Tags: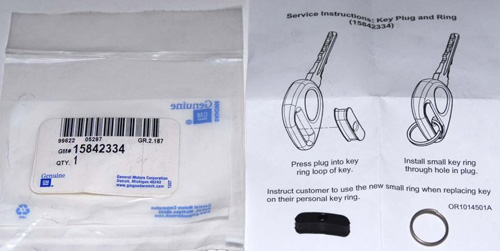 We're interested in talking to owners of 2003-2007 Saturn Ions who have had their ignition replaced or have experienced the engine shutoff problems. In addition, according the NBC News, there were also about 500 people in the country who were given one of the plastic plugs (shown above) a few years ago to put into their key ring from GM. Did anyone get one of these? If any of these pertain, please send me an email or post your experience as a comment below. Thanks!
Random Article from the SaturnFans.com Archives
Tags:
Last week, Penske Automotive Group disclosed to the media that it had secured former Chrysler President, Tom LaSorda, as an advisor for the deal. Similar news was unveiled yesterday by Telesto Ventures. The investor group has hired a team of advisors which are all, oddly enough, former executives at Chrysler. According to Telesto's CEO, John Pappanastos, "The Saturn brand has the opportunity to serve a significant role in transforming the auto industry. We have carefully selected a team of proven innovators who not only bring powerful thinking to the table, but also the critical execution skills that have enabled us to make significant progress in such a short amount of time."