Have You Experienced the Ignition Switch Issue?
Tags: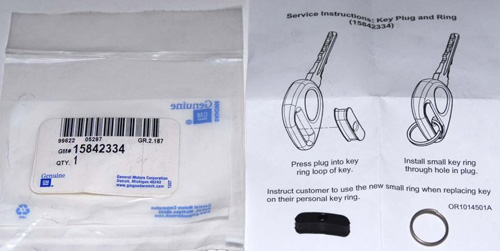 We're interested in talking to owners of 2003-2007 Saturn Ions who have had their ignition replaced or have experienced the engine shutoff problems. In addition, according the NBC News, there were also about 500 people in the country who were given one of the plastic plugs (shown above) a few years ago to put into their key ring from GM. Did anyone get one of these? If any of these pertain, please send me an email or post your experience as a comment below. Thanks!
Random Article from the SaturnFans.com Archives
Tags:
Justin Hyde from the Detroit Free Press Washington Staff: The Bush administration will offer General Motors and Chrysler loans totaling $17.4 billion in return for strict conditions mirroring those proposed by Senate Republicans last week. Those terms include not only the conditions agreed to by congressional Democrats, but new limits sought on the UAW contracts including matching wage and benefits of foreign automakers with U.S. plants by the end of next year.