Have You Experienced the Ignition Switch Issue?
Tags: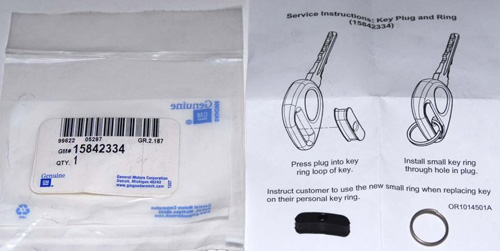 We're interested in talking to owners of 2003-2007 Saturn Ions who have had their ignition replaced or have experienced the engine shutoff problems. In addition, according the NBC News, there were also about 500 people in the country who were given one of the plastic plugs (shown above) a few years ago to put into their key ring from GM. Did anyone get one of these? If any of these pertain, please send me an email or post your experience as a comment below. Thanks!
Random Article from the SaturnFans.com Archives
Tags:
This is my first write up so keep that in mind if I leave some stuff out, just ask. Jack the car up. And if you don't have shade, make your own like I did. Take the rear wheel off first. Remove the caliper. I used a cut coat hanger to hang the caliper out of the way for the rest of the brake removal. The smaller bolts are for the caliper, the pink colored bolts hold the bracket on.