Have You Experienced the Ignition Switch Issue?
Tags: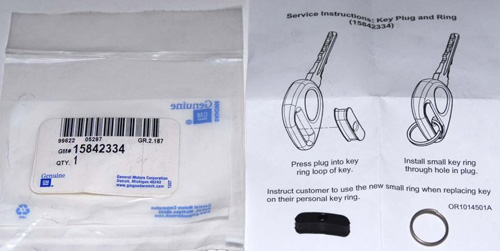 We're interested in talking to owners of 2003-2007 Saturn Ions who have had their ignition replaced or have experienced the engine shutoff problems. In addition, according the NBC News, there were also about 500 people in the country who were given one of the plastic plugs (shown above) a few years ago to put into their key ring from GM. Did anyone get one of these? If any of these pertain, please send me an email or post your experience as a comment below. Thanks!
Random Article from the SaturnFans.com Archives
Tags:
Over the years, one of Saturn's most impressive features was their innovative plastic polymer body panels that it used to cloth it's cars in. The panels resisted damage from small dents, dings, and minor bumps — they proved to be very popular among Saturn owners. The panels simply absorbed the impact, and bounced back into their original form. Back in the day, if you went to your local Saturn retailer, the sales folks would eagerly show you how well the panels worked by either pounding on the side of a car with their fists, or by inviting you to jump up and down on a sample door panel laying on the floor. No matter how hard you tried, the panels always went back to their original shape.