Bob Lutz Kisses Saturn's Astra, Has an Aura and Sky in His Garage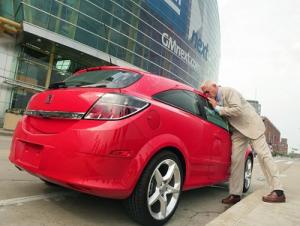 GM vice chairman Robert Lutz poses with his lips up against the side of a 2008 Saturn Astra XR. The brand says he was among the first Saturn fans to submit a photo for the "Kiss My Astra" national photo contest. As an employee of General Motors, however, Mr. Lutz in not eligible to win.
But the General Motors "car czar" isn't just a Saturn fan when he's at the office. Autoblog reports that after GM's cost cutting announcement earlier this week, he sat down with "people of the blogosphere" to talk about the impact the cutbacks would have on the company's future products. While Saturn was not specifically mentioned as a recipient of any all-new vehicles within the next two years (the brand's lineup was just completely refreshed), he did offer some insight into both his and the company's feelings towards Saturn.
Jalopnik.com wrote that Lutz told bloggers "we like the brand, we think it's a good brand." The website went on to say that the corporation likes how "Saturn tends to attract a different kind of buyer — just not enough of them." Lutz reiterated Jill Lajdziak's explanation concerning the change in plans for the next-generation Saturn Aura: it "was simply a decision not to short-cycle the current design."
That's not all. As a testament to his feelings toward Saturn, Lutz revealed to Autoblog that his "personal rides" include a Saturn Aura, Sky Red Line, as well as four Segways.
Source: GM, Saturn, Autoblog, Jalopnik
Random Article from the SaturnFans.com Archives
Tags:
Over the past 25 year, Bon Jovi has gone from performing in small clubs in New Jersey to selling out stadiums around the world. Through it all, they have not lost sight of who they are, where they're from, and how they can make a difference. Much in the same way as Saturn has been rethinking how they do things, Bon Jovi has been rethinking what it means to truly be a rock star. It is because of his and Saturn's shared vision of a better future that Saturn is supporting Bon Jovi's Lost Highway tour.