AutoBlog Rendered Speculation: Chevrolet Sky-Volt?
Sam Abuelsamid from AutoBlog: One of the many unfortunate casualties of General Motors' financial apocalypse is the loss of the Kappa platform, the small, rear-wheel drive architecture underpinning the Pontiac Solstice and Saturn Sky. With both of those brands being discontinued and no plans to migrate any models over to GM's surviving brands, the slow-selling roadsters will simply disappear within the next year. Another disappointment to GM fans was the transformation of the Chevy Volt from concept to production form. The sporty, aggressive concept was, to many, a generic interpretation of an otherwise revolutionary design. One of our readers came up with a novel solution to both problems. Just graft the Volt concept nose onto the Sky and install an adaptation of the Voltec powertrain and voila! You have a rival to the Dodge Circuit and Tesla Roadster.
Random Article from the SaturnFans.com Archives
Tags: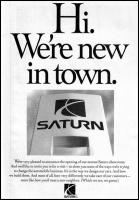 Back in the early 1990's Saturn was still building out its retail network and when new stores opened, they often ran advertisements like the one above in local area newspapers. This particular ad was printed inside the pages of a newspaper in New Jersey on June 25, 1993 to announce the opening of Saturn of Toms River.