2009 Saturn Sky is Sexy, Soulful
Tags:

Michael Andre Adams from the Atlanta Autos Examiner: For the style aficionado seeking a sexy, soulful, al fresca style whip for well under $50K, the Saturn Sky Red Line should be somewhere on your "fav-five" list, alongside BMW's Z4 and Mazda's MX-5. Under the hood, the Red Line has a 260 horsepower, four cylinder, 2.0 liter turbo engine that purrs along and kicks in when needed. For what it is--a car for casual, al fresca riding, it's nice, especially if speed aint really your speed. While some others point to the Mazda MX-5 for comparison, one area where I can assure you Sky excels is in cabin noise at high speeds. Good lord, Sky's ride is 10-times more quiet than MX-5's, where you can barely hear, or be heard while on the phone at driving speeds 55mph and above!
Random Article from the SaturnFans.com Archives
Tags: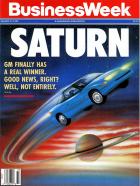 This August 17, 1992 issue of Business Week recognized Saturn as a rare success for General Motors. "As foreign rivals continue to flood the market with new models, Saturn is meeting them head on," wrote the magazine. "Almost overnight, Saturn has become the highest-quality American-made brand, with as few defects as Hondas and Nissans."