Saturn Likely to Return its to Its Roots as a Lower-End, Competitive-Priced Car Company

David Goldman and Peter Valdes-Dapena from CNNMoney.com: GM has said it will stop producing Saturn vehicles by 2011. GM would continue production of only the three highest-selling models: the Aura sedan, and the Vue and Outlook cross-over SUVs, for the next two years. The Saturn Sky and Astra models will be discontinued. To replace GM as the brand's manufacturer, Penske is in discussions with several global automakers. One likely replacement is Renault Samsung Motors of Korea, Automotive News reported. "We have been in discussions on a worldwide basis with many people that have an interest in this marketplace," Penske said. Still, much will depend on the quality of cars that it sells. "It's really going to depend on who Penske partners up with," said Jeremy Anwyl, CEO of Edmunds.com. "Even if it sells good, global-standard vehicles, Saturn will need to stand for more than just the retail experience." Penske said he wants Lajdziak to stay on at the company, and he also offered former Chrysler President Tom LaSorda a top spot at Saturn. Penske hired LaSorda in May as a consultant for the Saturn deal.
Random Article from the SaturnFans.com Archives
Tags: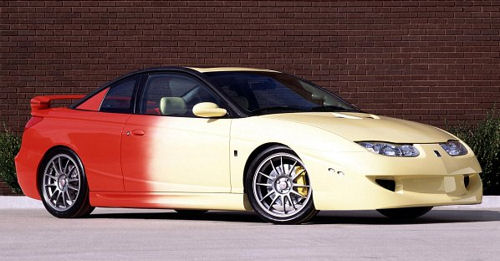 With its turbocharged engine and sizzling yellow-to-red paint scheme, the Saturn SCX three-door coupe ignited the passion of performance-car enthusiasts. The SCX's 1.9-liter DOHC 4-cylinder engine was modified by Saturn Motorsports of San Diego to yield an estimated 300 hp, more than double the engine's normal output in the Saturn SC2. Along with its hot engine, the SCX boasted a high level of handling and sporty appearance cues that reflected the car's performance capabilities.