Vintage Saturn Photos
Tags: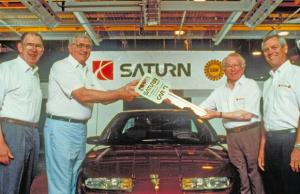 Saturn has been busy posting a growing collection of "vintage" Saturn pictures dating back to the late 1980s and early 1990s over on their ImSaturn website. Included in the album are classic S-Series advertising and plant photos, like this picture of the first Saturn ever built: a medium red 1991 SL2. Pictured from left to right with the vehicle are General Motors executives Robert Stempel, Owen Bieber, Roger Smith, and former Saturn President Richard G. LeFauve.
The car was later put on display at the Saturn Welcome Center outside the manufacturing facility in Spring Hill, TN where it was built. A a sign in its front window read: "On July 30, 1990 at 10:57am CDT, General Motors Chairman Roger Smith and UAW President Owen Bieber drove this red metallic four-door sedan off the final assembly line. It was the first car completed in the Spring Hill facility."
Take a trip down memory lane and head on over to ImSaturn.com to view Saturn's Vintage Saturn photo album. Enjoy!
Random Article from the SaturnFans.com Archives
Opel will unveil its all-new GT to the international public for the first time at the Geneva Motor Show March 2 to March 12, 2006. The GT is believed to provide a glimpse at the upcoming Saturn Sky Red Line roadster.