Maryland Owner Gives Her 1993 Saturn SL a Nail Polish Paint Job
Tags: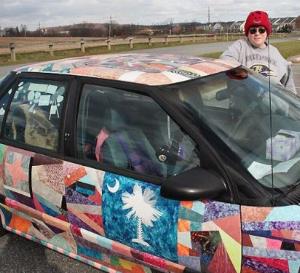 Ben Wojdyla from Jalopnik by way of the Maryland Gazette: Jill Bell noticed a scratched spot in a dent on the hood of her 1993 Saturn and decided to cover it with nail polish before the onset of winter caused it to rust and spread. When it held up to the elements, Jill, an avid quilter, wondered why she couldn't cover the entire car in a quilt inspired paint job of the same stuff. Over the course of a year, Jill collected unused bottles of nail polish from her friends and worked at creating a patchwork pattern reminiscent of her favorite past time. Photo courtesy of the Maryland Gazette.
Random Article from the SaturnFans.com Archives
Sometimes when life gets hectic, its nice to sit back, relax, and enjoy a good book. If you've been following all of the news about the pending Saturn spin-off from General Motors, you're probably ready to take a break and immerse yourself into some material that reminds you of what may have piqued your interest in Saturn in the first place: its award-winning cars and crossovers.