Maryland Owner Gives Her 1993 Saturn SL a Nail Polish Paint Job
Tags: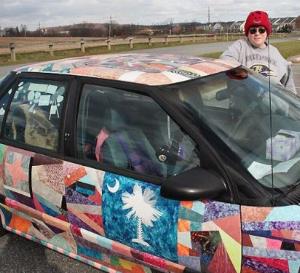 Ben Wojdyla from Jalopnik by way of the Maryland Gazette: Jill Bell noticed a scratched spot in a dent on the hood of her 1993 Saturn and decided to cover it with nail polish before the onset of winter caused it to rust and spread. When it held up to the elements, Jill, an avid quilter, wondered why she couldn't cover the entire car in a quilt inspired paint job of the same stuff. Over the course of a year, Jill collected unused bottles of nail polish from her friends and worked at creating a patchwork pattern reminiscent of her favorite past time. Photo courtesy of the Maryland Gazette.
Random Article from the SaturnFans.com Archives
Tags:
As noted in GM's viability plan presented on February 17, 2009, GM announced it would review the potential spin-off or sale of Saturn and if those options did not prove viable Saturn's operations would be wound down over time. Over approximately the past 60 days, a sub-committee of Saturn retailers has been studying the feasibility of the sale or spin-off options, and has identified some parties that are potentially interested in a purchase or spin-off of Saturn. We are advised that one of the interested parties is Black Oak Partners. We are not at liberty to discuss any other interested party. With respect to what the eventual outcome concerning Saturn might be with Black Oak or any other interested party, it is simply premature at this time to speculate on what any eventual outcome may be.