Maryland Owner Gives Her 1993 Saturn SL a Nail Polish Paint Job
Tags: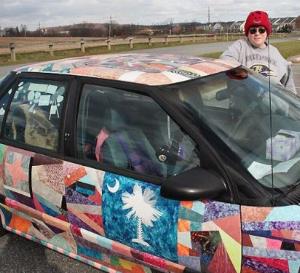 Ben Wojdyla from Jalopnik by way of the Maryland Gazette: Jill Bell noticed a scratched spot in a dent on the hood of her 1993 Saturn and decided to cover it with nail polish before the onset of winter caused it to rust and spread. When it held up to the elements, Jill, an avid quilter, wondered why she couldn't cover the entire car in a quilt inspired paint job of the same stuff. Over the course of a year, Jill collected unused bottles of nail polish from her friends and worked at creating a patchwork pattern reminiscent of her favorite past time. Photo courtesy of the Maryland Gazette.
Random Article from the SaturnFans.com Archives
Tags:
The folks at Yahoo Autos came across this different kind of YouTube video of the 2000 LW1 that invites viewers to "wax nostalgic over a Saturn." The review was recorded by Regular Car Reviews. Yahoo's Justin Hyde says the video features "astute narration to a wagonload of turn-of-the-century nostalgia. It's enough to make one pine for the plastic-body vanilla cars of yore."