Flashback to October 1990: Meet Saturn
Tags: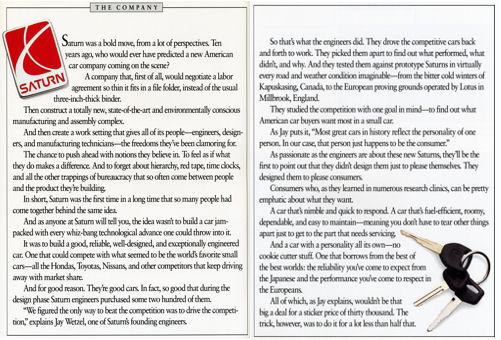 The following is an excerpt from Saturn's 1991 brochure. The first Saturn was a 1991 SL2 sedan sold on October 25, 1990.
Saturn was a bold move, from a lot of perspectives. Ten years ago, who would ever have predicted a new American car company coming on the scene? A company that, frist of all, would negociate a labor agreement so thin it fits in a file folder, instead of the usual three-inch-thick binder. Then construct a totally new, state-of-the-art and environmentally conscious manufacturing and assembly complex.
And then create a work setting that gives all of its people - engineers, designers, and manufacturing technicians - the freedoms they've been clamoring for. The chance to push ahead with notions they believe in. To feel as if what they do makes a difference. And to forget about hierarchy, red tape, time clocks, and all the other trappings of bureaucracy that so often come between people and the product they are building.
In short, Saturn was the first time in a long time that so many people had come together behind the same idea. And as anyone at Saturn will tell you, the idea wasn't to build a car jam-packed with every whiz-bang technological advance one could throw into it. It was to build a good, reliable, well-designed, and exceptionally engineered car. One that could compete with what seemed to be the world's favorite small cars - all the Hondas, Toyotas, Nissans, and other competitors that keep driving away with market share. And for good reason. They're good cars. In fact, so good that during the design phase Saturn engineers purchased some two hundred of them.
"We figured the only way to beat the competition was to drive the competition," explains Jay Wetzel, one of Saturn's founding engineers.
So that's what the engineers did. They drove competitive cars back and forth to work. They picked them apart to find out what performed, what didn't, and why. And they tested them against prototype Saturns in virtually every road and weather condition imaginable - from the bitter cold winters of Kapuskasing, Canada, to the European proving grounds operated by Lotus in Millbrook, England. They studied the competition with one goal in mind - to find out what American car buyers want most in a small car.
As Jay puts it, "Most great cars in history reflect the personality of one person. In our case, that person just happens to be the customer." As passionate as the engineers are about these new Saturns, they'll be the first to point out that they didn't design them to just please themselves. They designed them to please consumers. Consumers who, as they learned in numerous research clinics, can be pretty emphatic about what they want.
A car that's nimble and quick to respond. A car that's fuel-efficient, roomy, dependable, and easy to maintain - meaning you don't have to tear other things apart just to get to the part that needs servicing. And a car with a personality all its own - no cookie cutter stuff. One that borrows the best of the best worlds: the reliability you've come to expect from the Japanese and the performance you've come to expect in the Europeans. All of which, as Jay explains, wouldn't be that big a deal for a sticker price of thirty thousand. The trick, however, was to do it for a lot less than half that.
Source: 1991 Saturn Brochure
Random Article from the SaturnFans.com Archives
Tags:
General Motors turns 100 today and you are invited to join the company's celebration called "GMnext Day" - a series of forward-looking events to commemorate the GM's centennial. The festivities begin at 8:00 a.m. EDT.