Flashback Friday: Saturn "New in Town" Newspaper Ad
Tags: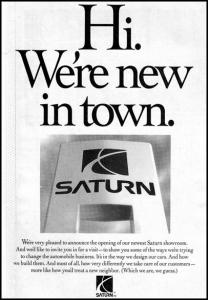 Back in the early 1990's Saturn was still building out its retail network and when new stores opened, they often ran advertisements like the one above in local area newspapers. This particular ad was printed inside the pages of a newspaper in New Jersey on June 25, 1993 to announce the opening of Saturn of Toms River.
Read the text of the advertisement below and then click here to view a large copy of the ad.
Hi. We're new in town. We're very pleased to announce the opening of our newest Saturn showroom. And we'd like o invite you in for a visit - to show you some of the ways we're trying to change the automobile business. It's in the way we design our cars. And how we build them. And most of all, how very differently we take care of our customers - more like how you'd treat a new neighbor. (Which we are, we guess).
Random Article from the SaturnFans.com Archives
Tags:

Saturn has been busy posting a growing collection of "vintage" Saturn pictures dating back to the late 1980s and early 1990s over on their ImSaturn website. Included in the album are classic S-Series advertising and plant photos, like this picture of the first Saturn ever built: a medium red 1991 SL2.