Flashback Friday: Saturn "New in Town" Newspaper Ad
Tags: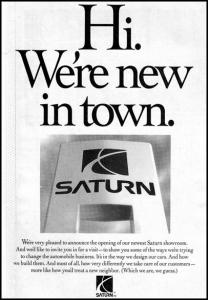 Back in the early 1990's Saturn was still building out its retail network and when new stores opened, they often ran advertisements like the one above in local area newspapers. This particular ad was printed inside the pages of a newspaper in New Jersey on June 25, 1993 to announce the opening of Saturn of Toms River.
Read the text of the advertisement below and then click here to view a large copy of the ad.
Hi. We're new in town. We're very pleased to announce the opening of our newest Saturn showroom. And we'd like o invite you in for a visit - to show you some of the ways we're trying to change the automobile business. It's in the way we design our cars. And how we build them. And most of all, how very differently we take care of our customers - more like how you'd treat a new neighbor. (Which we are, we guess).
Random Article from the SaturnFans.com Archives
Catch the Saturn Hands on Homes team in action helping families build affordable, energy-efficient homes on a new episode of "Renovation Nation" this Friday, August 21st at 9pm EST. With the help of various charitable organizations, Saturn Hands on Homes is helping to rebuild some of the neglected neighborhoods of Detroit's East Side. The program coordinates funding and volunteer efforts with Saturn retailers, Habitat for Humanity, and Jon Bon Jovi's Philadelphia Soul Charitable Foundation, to construct homes using green practices and materials.