Flashback Friday: Saturn Introduces the SW Wagon
Tags: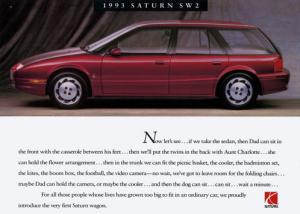 Saturn unveiled the all-new 1993 SW2 at the North American International Auto Show in Detroit during the winter of '92. Billed by the company as a "sedan with a backpack," the SW expanded Saturn's lineup and offered customers new levels of cargo space and utility. Two models were offered, the SW1 and SW2, which were powered by Saturn's tried-and-true 1.9L single- and dual-overhead cam engines, respectively.
From the brochure:
While most engineers think of space in terms of cubic feet, Saturn engineers think of it a little more creatively. For example, they think about what you can put where - cubic feet or otherwise. For instance, you'll be pleased to know that you can pop the latch of any Saturn wagon and slide a standard twenty-one inch television set (still in its box) into the cargo area - even without folding down the rear seats. Better yet, you can probably convince Fido (we're talking big dog, not a little yapper) to sit back there - without getting all cramped and cranky. Who knows, he might even grow to like it. A couple of things you'll grow to like are the sport-tuned suspension system, the dent-resistant bodyside panel, Saturn's unique reinforced passenger cage design called a "spaceframe," and last but not least, the dual overhead cam performance engine available on the SW2. So, if your life has outgrown your present mode of transportation, you might care to check out Saturn's new wagon. You'll find it in showrooms in the fall of 1992. It won't squeeze your pocketbook, and hey, it'll still hug a good country corner.
Back of Saturn SW teaser brochure
Random Article from the SaturnFans.com Archives
Tags:

Automotive enthusiast site MotorAuthority reports that Saturn will showcase a hybrid Vue concept called "Hyline" at the upcoming Specialty Equipment Manufacturing Associate (SEMA) auto show later this week. According to the website, the Saturn Vue Hyline was developed in conjunction with Sound Choice and Performance.