Flashback Friday: Restyled 2001 3-Door Coupe
Tags:
Saturn restyled its popular SC1 and SC2 3-door coupes for the 2001 model year and created this nifty brochure to tout the coupe's changes. "Three doors have never been so (dare we say it?) sexy," Saturn teased on the pages inside. "The third door on our three-door coupe means you don't have to be a contortionist to load and unload the back seat like you do with traditional two-doors."
A Saturn with sex appeal. Now, that's newsworthy. Don't get us wrong. When we introduced the world's first three-door coupe last year, it was one good-looking machine. But this year, thanks to a major makeover, the car's significantly sleeker, sportier and - well, sexier. Its upswept bodyside styling, reflector-optics headlights and wraparound tail lights combine to give it a strong, sweeping look. To help keep the interior cool (and who won't appreciate that on a sizzling summer afternoon?), there's special solar glass. There's also a lot that doesn't meet the eye, like a torque-heavy, 1.9-liter dual-overhead-com engine, five-speed manual transmission and four-wheel independent suspension for those scenic but snaking mountain roads. All in all, our coupe's a car with plenty of style - and the substance to back it up.
Random Article from the SaturnFans.com Archives
Tags: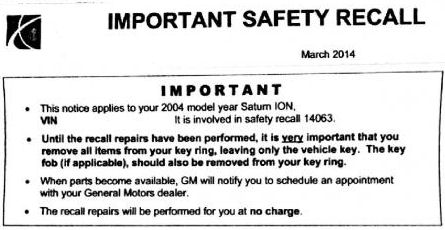 SaturnFans.com has obtained a copy of the letter being sent out to Ion owners impacted by the ignition switch recall. The bottom line: replacement parts are not available and if you have to drive your car make sure you remove the key fob and any other keys to eliminate any excess weight on the ignition key.