Flashback Friday: MotorWeek 1992 Small Coupe Comparison Test
Tags:
It's hard to believe that it was more than 15 years ago when MotorWeek compared what host John Davis described as "a new class of subcompacts called econo-sports." Television's automotive magazine compared the '92 Saturn SC coupe to the Hyundai Scoupe, Toyota Paseo, Geo Storm, and Nissan NX1600. "These stylish little coupes are designed to offer smooth looks and handling, while still retaining the high mileage of the economy sedan on which they are based."
So, you might be wondering... which car came out on top? Watch part 1 and 2 of the video review below to find out.
Random Article from the SaturnFans.com Archives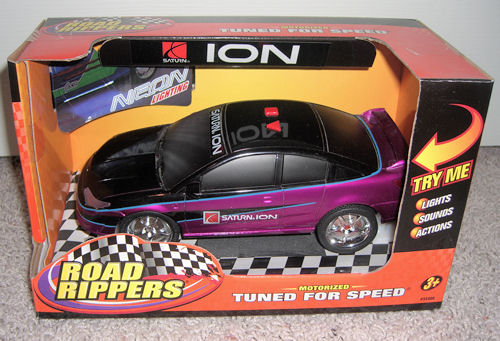 A few years ago Target sold some motorized Saturn Ion toys that were "tuned for speed." The cars were available in two colors: black/purple (pictured above) and red/black (below). On the top of each car were two buttons. Pressing the triangle caused the car to rev its engine, flash its headlamps and under-body neon lights, and finally zoom forward a few feet. The square button started a caused the car to play a catchy rhythmic tune with the lights flashing along to the beat.