Flashback Friday: First Saturn Sold Today in 1990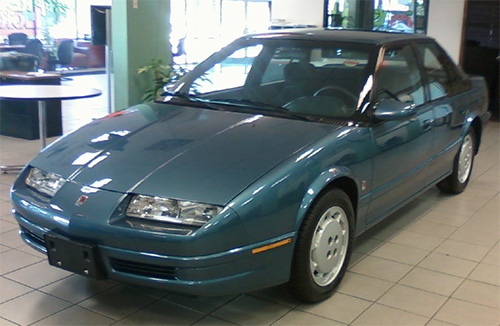 On this date in 1990, Saturn sold its first car. According to the St. Petersburg Times, the first Saturn - the blue SL2 sedan shown above - was sold just after midnight to Elaine Terry at Saturn of Clearwater. "I wanted an American-made car and decided to give it a try," Mrs. Terry told the newspaper. It was a 25th wedding anniversary present. USA Today and CNN were reportedly at the retail facility to document the event. "I kept it for 10 months and put over 5,000 miles on it. People all over the country wanted to buy the car from me. One man in Las Vegas was talking up to $100,000 for it." However, after some discussion with Saturn of Clearwater, she decided to sell it back to them so it could be put on display at the store. "We gave her two 1992 cars of her choice to get that original car back," recalls Scott Harlib, general manager of Saturn of Clearwater. "I got a new car and the other one went to my son, who was in college at the time and needed a car," she said. In addition, after talking about her car and ownership experiences at local dealership events in the months after her purchase, Saturn hired Mrs. Terry in 1992 to do public relations work for the company.
Source: St. Petersburg Times
Random Article from the SaturnFans.com Archives
My girlfriend and I have been using the info on this forum to help troubleshoot problems with her '98 SL2 for some time. Recently, it's been going through a phase of needing some new parts, which is not all that surprising given the age of the car. When we took it back to a local shop after they replaced the tensioner pulley and belt a new problem arose - choking and stalling out.