Flashback Friday: 1994 Saturn SL2 Homecoming Sedan
Tags: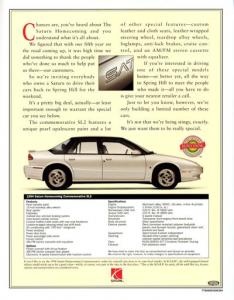 Pictured is the back page of the Saturn brochure printed to tout the 1994 Saturn Homecoming Commemorative Sedan. Saturn built a limited number of these special pearl white SL2 sedans to commemorate the brand's first homecoming celebration held at the Saturn plant in Spring Hill, Tennessee. The MSRP for the Homecoming SL2 was $15,650.
Click the following two links to view the front side and back side of brochure. Read an excerpt from the brochure below.
Chances are, you've heard about the Saturn Homecoming and you understand what it's all about. We figured that with our fifth year on the road coming up, it was high time we did something to thank the people who've done so much to help put us there - our customers. So we're inviting everybody who owns a Saturn to drive their cars back to Spring Hill for the weekend. It's a pretty big deal, actually - at least important enough to warrant the special car you see below. the commemorative SL2 features a unique pearl opalescent paint and a lot of other special features - custom leather and cloth seats, leather-wrapped steering wheel, teardrop alloy wheels, foglamps, anti-lock brakes, cruise control, and an AM/FM stereo cassette with equalizer. If you're interested in driving one of these special models home - or better yet, all the way to Spring Hill to meet the people who made it - all you have to do is give your nearest retailer a call. Just to let you know, however, we're only building a limited number of these cars. It's not that we're being stingy, exactly. We just want them to be really special.
Random Article from the SaturnFans.com Archives
Last week General Motors announced Buick would begin selling a new compact crossover in 2010. Later in 2011, the vehicle will feature the company's state-of-the-art plug-in hybrid technology. The Buick will be launched with two of fuel-efficient direct-injected gasoline engines: Ecotec 2.4L direct-injected four-cylinder engine with an optional 3.0L direct-injected V6. GM says the 2.4L will deliver 30 miles per gallon or more on the highway, a modest statement since the redesigned and just released 2010 Chevrolet Equinox with the same powertrain earned a 32 mpg rating by the EPA.