Flashback Friday: 1993 "Multiply" Newspaper Ad
Tags: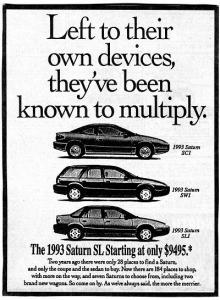 This folksy Saturn newspaper advertisement was one of many used to promote Saturn's newly expanded 1993 model year lineup of S-Series vehicles. The ad featured many of Saturn's classic advertising elements from that time period, including a catchy headline, a prominent photo, and a few clever sentences written to make the reader feel right at home with Saturn. "Left to their own devices, they've been known to multiply," read the main heading of the text. The ad featured side profile pictures (from top to bottom) of the '93 SC1, SW1, and SL1 models. Beneath the four-door sedan, additional verbiage introduced "the 1993 Saturn SL starting at only $9495."
View a full-size scanned image of the ad, and read the text from the main section of the ad's copy below.
Two years ago there were only 28 places to find a Saturn, and only the coupe and sedan to buy. Now there are 184 places to shop, with more on the way, and seven Saturns to choose from including two brand new wagons. So come on by. As we've always said, the more the merrier.
Random Article from the SaturnFans.com Archives
Tags: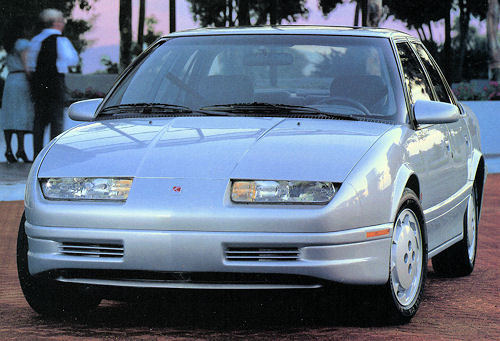 Sometimes its fun to pause for a moment at take a look back at how much things cost years ago. Take for instance Saturn's 1991 lineup, when base SL sedan was sold for less than $8000! The SL2, shown above, could be purchased for just over $10,000. Note the simplicity of the option sheet, along with the available anti-lock braking system (ABS) and unavailable airbags.