Flashback Friday: 1992 Business Week Cover Story
Tags: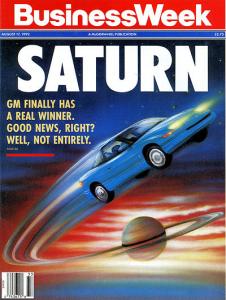 This August 17, 1992 issue of Business Week recognized Saturn as a rare success for General Motors. "As foreign rivals continue to flood the market with new models, Saturn is meeting them head on," wrote the magazine. "Almost overnight, Saturn has become the highest-quality American-made brand, with as few defects as Hondas and Nissans." But at the same time, it wondered whether GM would be able to address the pressing issues brought on by the brand's success, learn from it's innovations, and Saturnize the rest of the corporation's operations. "The auto maker clearly has a winner on its hands," said BW. "Now, the question is: Will GM know what to do with it?
Saturn's growth spurt is forcing some tough decisions at GM's Detroit headquarters. To keep up the new division's momentum, GM's top brass will have to pump in more money, even though the burden of Saturn's $5 billion initial investment means it is losing some $500 million a year and probably won't turn a profit until the mid-1990s.
Click here for a full-size version of the photo.
Random Article from the SaturnFans.com Archives
Saturn confirmed today that it will add the Astra compact car to its lineup late in 2007, marking an important stage in its product revitalization plan. When the 2008 Astra joins the Sky, Aura, Outlook and all-new Vue, no Saturn will have been in the market more than 20 months, giving the brand one of the freshest product lineups in the industry.