Flashback Friday: 1988 Saturn Prototype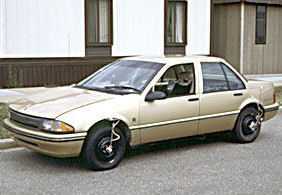 Up until this year the general public had really only seen one picture of the original Saturn prototype that was taken when it was unveiled to the automotive press in 1984. However this year, thanks to the General Motors' collaborative GMnext 100th anniversary website, a bunch of never-before-seen photos of Saturn prototypes from the company's archives have made their way onto the Internet. Recently this photo of a pre-production Saturn sedan, which was taken in 1988 inside GM's Milford Proving Grounds in Michigan, was uploaded to the site. Here's another one of it undergoing testing at the proving grounds.
Random Article from the SaturnFans.com Archives
Tags:
A letter from Saturn General Manager Jill Lajdziak: From our very beginning, Saturn has always sought a better way. We pioneered no haggle-no hassle shopping, built dent-resistant cars, set a new benchmark for customer service and forged a unique relationship with our retailers, workers and customers. From the beginning, Saturn was launched as a "Different kind of Car Company." Well, here we go again. You may have read that General Motors delivered a plan to the U.S. government that outlined the corporation's plan for long term viability. In that plan, GM stated that Saturn would work with its retailers to investigate options for the future of the Saturn brand. We said that all ideas were on the table and we meant it.