Flashback Friday: 1988 Saturn Prototype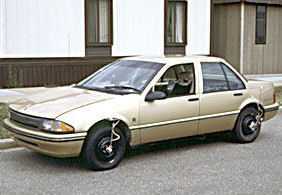 Up until this year the general public had really only seen one picture of the original Saturn prototype that was taken when it was unveiled to the automotive press in 1984. However this year, thanks to the General Motors' collaborative GMnext 100th anniversary website, a bunch of never-before-seen photos of Saturn prototypes from the company's archives have made their way onto the Internet. Recently this photo of a pre-production Saturn sedan, which was taken in 1988 inside GM's Milford Proving Grounds in Michigan, was uploaded to the site. Here's another one of it undergoing testing at the proving grounds.
Random Article from the SaturnFans.com Archives
Chevrolet and Cadillac have been getting a lot of press lately as GM's mass-market brands for mainstream and luxury vehicles, respectively. That's left folks with a lot of questions about the other brands situated in the middle of GM's portfolio. You might have even been asking yourself: is there a plan being executed here, or is a GM making things up as it goes along?