Flashback Friday: 1988 Saturn Prototype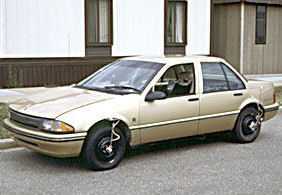 Up until this year the general public had really only seen one picture of the original Saturn prototype that was taken when it was unveiled to the automotive press in 1984. However this year, thanks to the General Motors' collaborative GMnext 100th anniversary website, a bunch of never-before-seen photos of Saturn prototypes from the company's archives have made their way onto the Internet. Recently this photo of a pre-production Saturn sedan, which was taken in 1988 inside GM's Milford Proving Grounds in Michigan, was uploaded to the site. Here's another one of it undergoing testing at the proving grounds.
Random Article from the SaturnFans.com Archives
The UAW strike that brought Saturn's Aura midsize sedan to a screeching halt earlier this month is finally over. "We're certainly happy to be able to resume production of the Malibu and Aura," GM spokesman Dan Flores told the Detroit News in an article earlier today.