A Different Kind of Car Collector

From Hagerty: The most interesting car collection you've never heard of lives in a subdivision just outside Princeton, New Jersey. Nestled between patches of bucolic farmland and aging equestrian stables, in the cool shadow of a nature preserve, the neighborhood looks like any other. Drive past too quickly and you might miss the vast horde of Saturns, fanned out in the driveway of a single house like paint swatches in a catalogue. Before that rainbow array of plastic body panels stands its caretaker, a soft-spoken 26-year-old woman named Jessieleigh Freeman. She fiddles with a scrunchie on her wrist and purses her lips as I wander, speechless, among the coupes, sedans, and wagons. "Seventeen of them," she says, one hand idly playing with the Saturn pendant on her choker necklace. "I've got one in every body style—a few doubles, even." The skateboard she carries displays the same two words you'll find all over her Instagram: Saving Saturn.
Random Article from the SaturnFans.com Archives
Tags: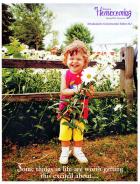 Pictured above is the front page of the single-page brochure created to promote the 1999 Saturn Homecoming SL2. Only a limited number of these green sedans were built to commemorate the brand's second homecoming celebration held in July of '99 at the former Saturn plant in Spring Hill, Tennessee. The MSRP for this special model was $17,405.