1991 Vehicle Specifications
Tags: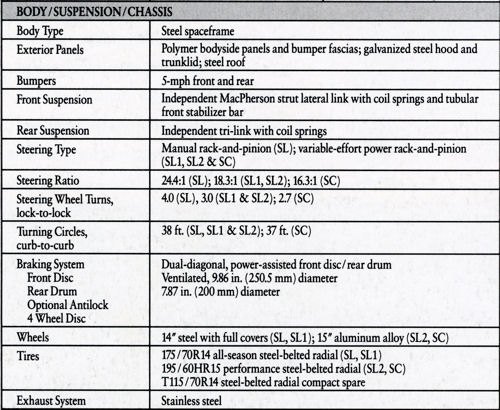 Shown above are the body, suspension, and chassis specifications for Saturn's 1991 sedans (SL, SL1, SL2) and coupe (SC). They were all built off of Saturn's so-called "Z" platform, which was essentially a compact front-wheel-drive steel spaceframe chassis. The full spec sheet is posted in the photo gallery.
Random Article from the SaturnFans.com Archives
Tags:
I had a set of black emblems on my 1997 S-Series and loved the look; I'd like to do put a set on my '99. But these days there are no local dealers that I know of who are still around to call and check with, so wanted to see if anyone knew of an online place that I could go to, or if some dealers still have them?