1991 Vehicle Specifications
Tags: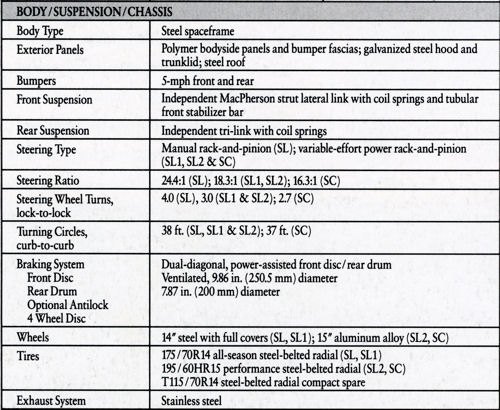 Shown above are the body, suspension, and chassis specifications for Saturn's 1991 sedans (SL, SL1, SL2) and coupe (SC). They were all built off of Saturn's so-called "Z" platform, which was essentially a compact front-wheel-drive steel spaceframe chassis. The full spec sheet is posted in the photo gallery.
Random Article from the SaturnFans.com Archives
Tags:
Saturn Astra - the all-new sport compact car with European-bred driving dynamics - arrives at retail facilities early next year. But enthusiasts who want to be among the first to see, feel and drive the Astra can participate in one of 14 test drive programs held this fall across the United States, between October 12th and December 13th.