1991 Vehicle Specifications
Tags: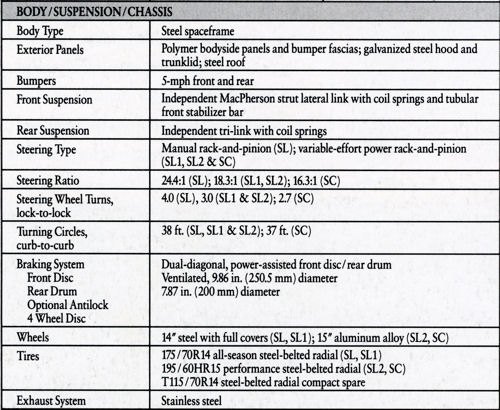 Shown above are the body, suspension, and chassis specifications for Saturn's 1991 sedans (SL, SL1, SL2) and coupe (SC). They were all built off of Saturn's so-called "Z" platform, which was essentially a compact front-wheel-drive steel spaceframe chassis. The full spec sheet is posted in the photo gallery.
Random Article from the SaturnFans.com Archives
Over the years, one of Saturn's most impressive features was their innovative plastic polymer body panels that it used to cloth it's cars in. The panels resisted damage from small dents, dings, and minor bumps - they proved to be very popular among Saturn owners. The panels simply absorbed the impact, and bounced back into their original form.